Vol. 14 Issue 2
- Newton, NJ -
Tuesday, February 4, 2020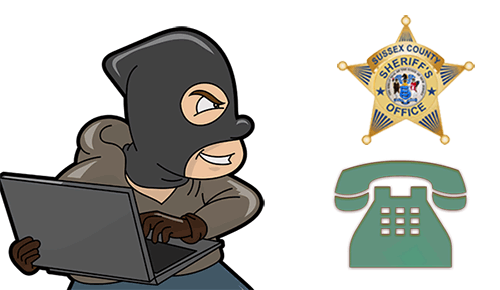 Some Sussex County residents have reported receiving telephone calls from someone stating they are calling from the Sussex County Sheriff's Office. The caller says that you will be arrested if you do not satisfy a particular debt. They give a case number and a call back number. Do not fall for this latest scam. The Sussex County Sheriff's Office is not making these calls. If you have received a call threatening arrest by the Sussex County Sheriff's Office and you feel it is a scam, please call the Sussex County Prosecutor's Office at 973-383-1570 ext 4526.
Read More...
If you enjoy this newsletter, please forward it to a friend.
Champions of Democracy Needed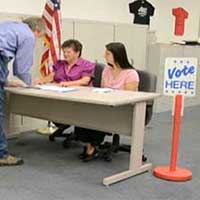 (2/4/2020)

Print this story
The Board of Elections is currently looking to fill Poll Worker positions throughout the county.

"The best part about being a Poll Worker is getting to see all your neighbors and everyone who comes in to vote. It really is a social thing, and you get paid to do it!"
2019 Novel Coronavirus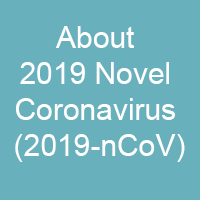 (2/4/2020)

Print this story
The State Department is increasing the China Travel Advisory to Level 4 – Do Not Travel. This is due to the spread of the novel coronavirus throughout China and the WHO determination that the outbreak constitutes a Public Health Emergency of International Concern. (state.gov)
Leap Into Reading & Win!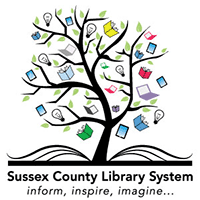 (1/21/2020)

Print this story
The Sussex County Library System (SCLS) is celebrating Leap Year with the Leap Into Reading & Win! reading raffle. Children in fourth grade through adults earn one raffle ticket for each book read or listened to throughout February. A variety of prizes, from $50 Amazon gift cards for adults, to a fun day at Skylands Ice World for students, will be awarded at each SCLS library.
Frankford Bridge Closed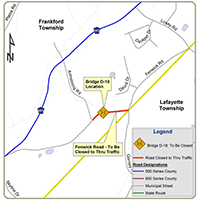 (2/4/2020)

Print this story
In the interest of public safety, Sussex County Bridge D-18 on Fenwick Road in Frankford Twp has been closed and will remain closed until it can be fully evaluated and repaired.
Town of the Month
Frankford Township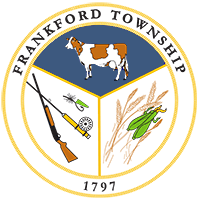 (2/4/2020)

Print this story
Frankford Township was formed on April 10, 1797, from portions of Newton Township, and was incorporated on February 21, 1798, as one of New Jersey's initial 104 townships by an act of the New Jersey Legislature. Portions of the township were taken to form Lafayette Township and Sparta Township (both established on April 14, 1845), along with Branchville (March 9, 1898), which is completely surrounded by the township. The township was said to have been named after Frankford, a neighborhood of Philadelphia, after a visitor who hailed from that area came to help out at the rural school in the township. (Wikipedia)
FAQ
Census 2020 Tip of the Month
It's about Redistricting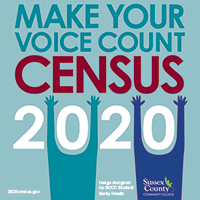 (2/4/2020)

Print this story
The U.S. Constitution requires that electoral districts be periodically adjusted or redrawn to account for population shifts. Each decade, the census reveals where populations have risen or fallen. The U.S. Census Bureau provides population counts to the states for this purpose.
Importance of the Data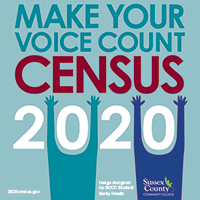 (2/4/2020)

Print this story
The results are critically important because this once-a-decade census data helps businesses, researchers, and communities make decisions. The data can help inform where your community needs a new fire department, more funding for school lunches, or new roads.
---

and don't miss…




---

A Program of the County of Sussex

---

---

Subscribe/Unsubscribe

to this periodic email newsletter.

Privacy Statement

Your information will not be sold or distributed and is used only to maintain this list and to assist us in tailoring our content for reader interest.

---

We would appreciate hearing from you. Please contact us with your thoughts and/or comments on the County's Electronic Newsletter or Website by emailing us at feedback@sussex.nj.us.

If you enjoyed this newsletter, please forward it to a friend.

© 2020 County of Sussex
One Spring Street, Newton, NJ 07860
(973)579-0200