Page Navigation

Seasonal Influenza Information

The flu is a contagious respiratory illness caused by influenza viruses. It can cause mild to severe illness, and at times can lead to death. The best way to prevent the flu is to get a flu vaccine each fall.

Every year in the United States, on average:

5% to 20% of the population gets the flu;
more than 200,000 people are hospitalized from flu complications, and;
36,000 people die from flu.

Some people are at high risk for serious flu complications, such as older people, young children, and people with certain health conditions.

Symptoms & Complications of Flu

Symptoms of flu include:

fever (usually high),
headache,
extreme tiredness,
dry cough,
sore throat,
runny or stuffy nose, and
muscle aches.
Gastro-intestinal symptoms, such as nausea, vomiting, and diarrhea, are much more common among children than adults.

Some of the complications caused by flu include bacterial pneumonia, dehydration, and worsening of chronic medical conditions, such as congestive heart failure, asthma, or diabetes. Children may get sinus problems and ear infections.
How Flu Spreads
The flu spreads in respiratory droplets caused by coughing and sneezing. It usually spreads from person to person, though occasionally a person may become infected by touching something with virus on it and then touching their mouth or nose.
Adults may be able to infect others beginning 1 day before getting symptoms and up to 7 days after getting sick. That means that you can give someone the flu before you know you're sick as well as while you are sick.
Preventing the Flu: Get a Flu Vaccine
The single best way to prevent the flu is to get a flu vaccine each fall.
There are two types of vaccines:
The "flu shot" -- an inactivated vaccine (containing killed virus) that is given with a needle. The flu shot is approved for use in people older than 6 months, including healthy people and people with chronic medical conditions.
The nasal-spray flu vaccine -- a vaccine made with live, weakened flu viruses that do not cause the flu (sometimes called LAIV for "Live Attenuated Influenza Vaccine"). LAIV is approved for use in healthy people 5 years to 49 years of age who are not pregnant.
About two weeks after vaccination, antibodies that provide protection against influenza virus infection develop in the body.
When to Get Vaccinated
October or November is the best time to get vaccinated, but you can still get vaccinated in December and later. Flu season can begin as early as October and last as late as May.
What are other steps that can be taken to prevent the flu?
There are other good health habits that can help prevent the flu. These are:
Avoid close contact with people who are sick. When you are sick, keep your distance from others to protect them from getting sick too.
If possible, stay home from work, school, and errands when you are sick. You will help prevent others from catching your illness.
Cover your mouth and nose with a tissue when coughing or sneezing. It may prevent those around you from getting sick.
Washing your hands often will help protect you from germs.
Avoid touching your eyes, nose or mouth. Germs are often spread when a person touches something that is contaminated with germs and then touches his or her eyes, nose, or mouth.
There are many opportunities this season for you and your family members to get a flu shot and be protected.
Influenza (Flu) Pages at the Centers for Disease Control and Prevention. About the flu, how flu spreads, vaccination...
Pandemic Influenza Information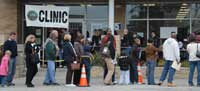 Photo by Mitch Morrison
A pandemic is a global disease outbreak. An influenza pandemic occurs when a new influenza A virus emerges for which there is little or no immunity in the human population, begins to cause serious illness and then spreads easily from person-to-person worldwide. For more information on Pandemic Flu:
Pandemic Pages of the Centers for Disease Control and Prevention. One of the most important public health issues our Nation and the world face is the threat of a global disease outbreak called a pandemic.

Avian Influenza Information "Bird Flu"
Avian flu is caused by avian influenza viruses, which occur naturally among birds. During an outbreak of avian influenza among poultry, there is a possible risk to people who have contact with infected birds or surfaces that have been contaminated with secretions or excretions from infected birds.
Surveillance
With the assistance and cooperation of local health officers and the coordinating efforts of Local Information Network and Communications System (LINCS) local health agencies, the New Jersey Department of Health has recruited selected schools and nursing homes statewide which will be reporting absenteeism rates and flu-like illness rates, respectively weekly. In addition, NJDOH has requested all New Jersey hospital emergency departments to report weekly the flu-like activity that they are seeing. This information will assist NJDOH to answer the frequently asked question "Is flu here yet?" It will give a measure of the seriousness of the activity, and it will also assist New Jersey's physicians on intensifying vaccination efforts and prescribing anti-influenza virus medications which may be prescribed while the virus is circulating in the state. To learn more visit Sussex County School Influenza like Illness Surveillance System and New Jersey's Active Influenza Surveillance System

Influenza: Facing New Global Challenges

15 Minutes long! This film adapts a Power Point presentation from the New Jersey Department of Health. Learn the differences between seasonal, avian, and pandemic influenza. Click the icon.