Page Navigation

Department of Health and Human Services
One Spring Street, Newton, N.J. 07860
Office Hours: 8 a.m. to 5 p.m.
Phone: 973-579-0559 Fax: 973-579-9894
humanservices@sussex.nj.us
"To improve the quality of life of Sussex County residents through an integrated approach to comprehensive services that meets the needs of individuals, families, and communities."
---
"Delivering human services in a professional, respectful and dignified manner"
Food Resources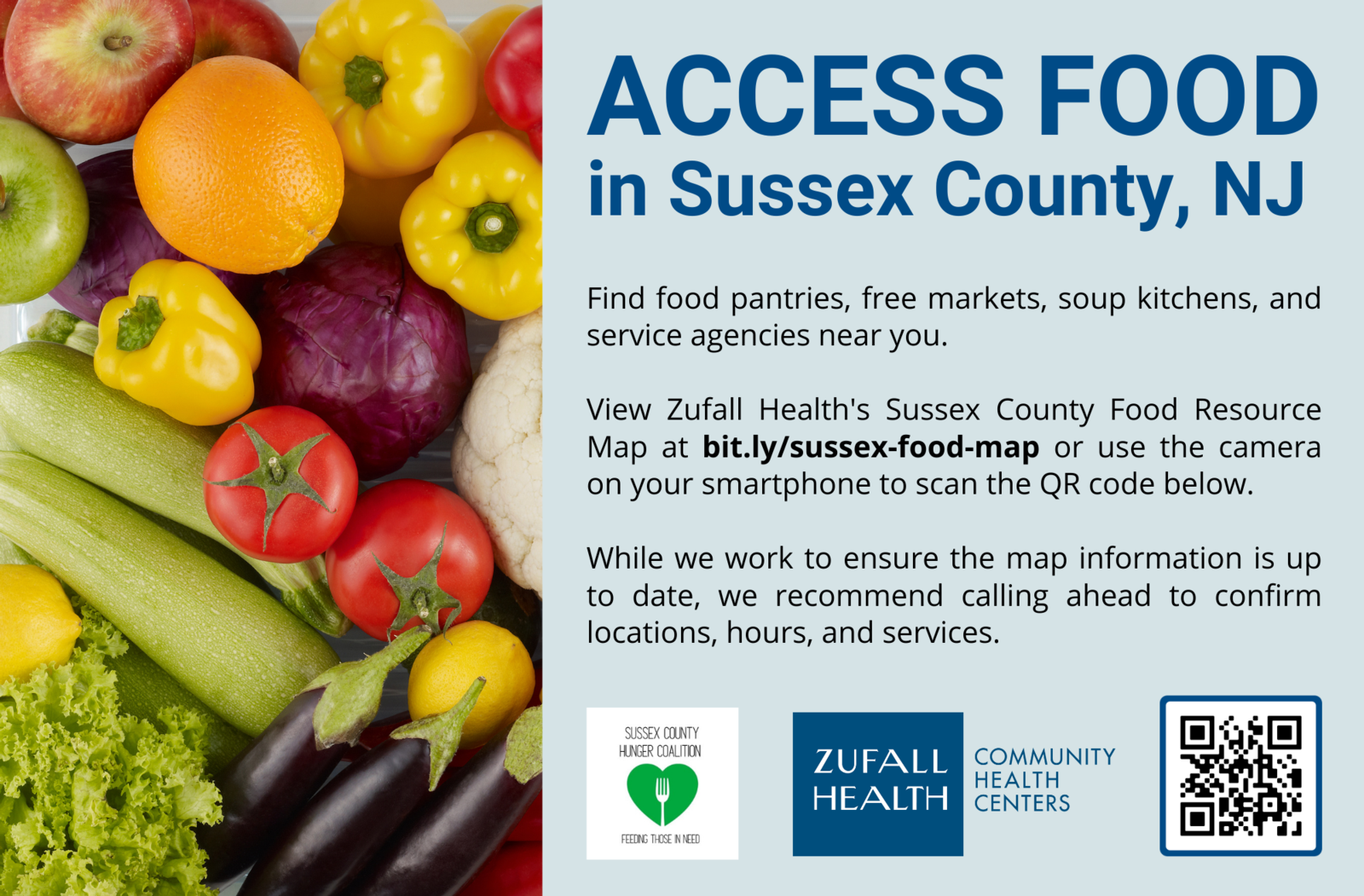 Zufall Health's Sussex County Food Resource Map, via the links provided below:
Human Services Directories
Health Care

You can enroll in a health plan now through the COVID-19 Special Enrollment Period if you are uninsured.
Answer a few questions to learn if you qualify for lower costs.

Medicare Open Enrollment for 2021 runs through December 7, 2020.

Health Insurance Marketplace Open Enrollment for 2021 runs until August 15, 2021.
Answer a few questions to learn if you qualify for lower costs.

If you're a professional learning about the Marketplace and helping people apply, get the latest resources here.
Services
DIVISION OF COMMUNITY & YOUTH SERVICES Includes the Disability Services Advisory Council, Municipal Alliance, Human Services Advisory Council, Office of Substance Abuse and Alcohol and Mental Health Board.
DIVISION OF HEALTH Includes Office of Environmental Health and Sanitation, Office of Mosquito Control, Office of Public Health Nursing, Office of Weights & Measures, Special Child Health Services, HAZ-MAT Response Team, Emergency Preparedness Program.
DIVISION OF SENIOR SERVICES has been designated as the lead agency to administer programs for the elderly by New Jersey Division on Aging, under the Older Americans Act.
DIVISION OF SOCIAL SERVICES Includes the delivery of public assistance and social services to eligible individuals and families to alleviate human suffering, and to maximize individual potential, in a competent and compassionate manner. The Division of Social Services' "Right Door Since 1932" policy is your assurance that agency staff will make every effort to meet your Social Service needs as provided for by law and regulation.
SUSSEX COUNTY SKYLANDS RIDE Sussex County Office of Transit provides over 126,000 rides a year to County residents through public transportation and paratransit services.
Additional Resources
Contact Us
Service Requests

NJ 211 Helpline


Provides a searchable directory of services available in Sussex County and state-wide.

New Jersey Department of Health


New Jersey Department of Human Services


New Jersey State League of Municipalities


State of New Jersey


United States Department of Health & Human Services

Outside links provided are for information purposes. No evaluation or recommendation of any specific service provider is intended.
Downloadable Documents