Mental Health Board
Page Navigation

Sussex County Mental Health Board
One Spring Street, 2nd Floor
Newton, NJ 07860
Cindy Armstrong, Mental Health Administrator
Telephone (973) 940-5200 ext. 1371
carmstrong@sussex.nj.us
Sussex County Mental Health Board
One Spring Street, 2nd Floor
Newton, NJ 07860
Cindy Armstrong, Mental Health Administrator
Telephone (973) 940-5200 ext. 1371
carmstrong@sussex.nj.us
---
If you would like to send a service request, provide feedback or communicate with the Sussex County Mental Health Board, please click on this link:
sussex.nj.us/servicerequest
Need Help?
Sussex County Mental Health Resources - Agency Videos
Search for
Mental Health Resources
Substance Use Resources
or search the Substance Abuse and Mental Health Services Administration (SAMHSA) Behavioral Health Treatment Services Locator


Provide input on Sussex County mental health services.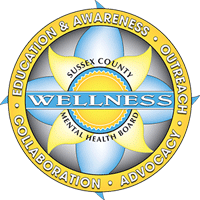 Mission
The mission of the Sussex County Mental Health Board is to promote access to and availability of efficient, adequate, integrated health care services for adults with serious mental illness and/or substance use disorders and for children and adolescents with emotional, behavioral and mental health disorders.
Guiding Principles
To accomplish this mission, the Mental Health Board will embrace the following principles for health planning:
Consumer-focused Services
Individualized Care
Wellness and Recovery Model
Evidenced-based Practices
Cultural Competence
Background
The Sussex County Mental Health Board was established under the provisions of the New Jersey Community Mental Health Services Act of 1957 (N.J.A.C. 10:37). In order to participate under this act, the county Board of County Commissioners appoints a Mental Health Board, hereinafter the "Board," consisting of not less than seven and not more than twelve residents of the county. The legislation stipulates that the Board shall provide public leadership to the county in the development of mental health resources.
Purpose
One of the Board's major responsibilities is that of planning for mental health services for the County. The Board is responsible for initiating and implementing a Mental Health Plan that will provide a framework for addressing the mental health needs of the County as identified in the Needs Assessment. The Plan shall include identification of the County mental health authorities along with their respective roles and function. The Plan shall also include specific goals, recommendations and actions steps to address the planning priorities.